Seven Planet Saving Solutions
To help you with your Eco-Street application, this week we'll be looking at examples of nature-based-solutions (NBS). By installing NBS into your designs you can help reduce the impact of climate change on your neighbourhoods, whilst also supporting people's health and wellbeing and making new homes for wildlife.
The seven planet saving solutions outlined below are all backed up by science with most of the statistics mentioned coming from over 1,000 pieces of scientific evidence which have been collected and analysed as part of the IGNITION project. These are just some of the benefits of nature-based-solutions, so click the links in each section to find out more.
Missed our first email on 'Why are we banging on about green-spaces?' – check it out HERE.
1. Green roofs
Green roofs are areas of planting positioned on top of structures – this is most commonly roofs of buildings but they can also be installed on sheds, garages and bin stores. Green roofs are heavier than normal roofs so your structure needs to be checked first before these are installed. They come in many different types and sizes with varying benefits.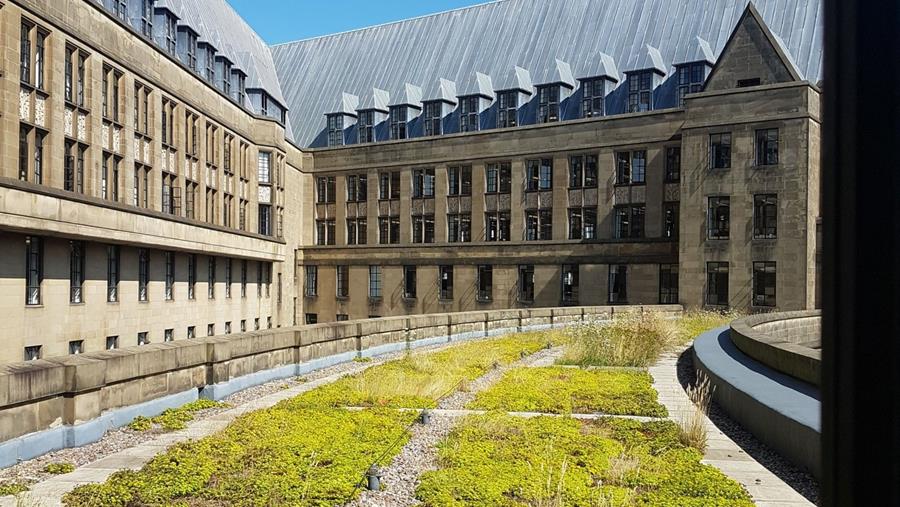 What makes a green roof great?
They can extend roof life by an average of 23 years over a conventional roof, by protecting the surface from the sun's rays.
They restore habitats and provide food for insects and other wildlife.
They manage and store rainfall – on average they retain 62% excess rainwater, which reduces the amount of water overloading our drains and sewer systems. Green blue roofs have an additional egg-tray like layer which means they can store even more!
2. Green walls, living walls and green facades
Green walls can thrive in both indoor and outdoor environments. They can feature simple planting such as ivy growing from the ground to the roof, or they can be made of more complex structures, where plants are grown directly on the walls in specially made planters.
Why are green walls great?
They improve air quality by absorbing poisonous pollutants (eg. car fumes).
A view of nature like a green wall can increase memory by 12-15%.
They reduce energy use in a building (through their added insulation) by up to 15%.
3. Rain gardens and rain garden planters
Rain gardens and rain garden planters are areas of planting put in place to collect excess rainwater and reduce flooding. Rain gardens at ground level can be positioned in locations to collect excess water and store it temporarily. In a storm situation, water collects within them which slows down the water and stops it from reaching the sewer systems quickly. Rain garden planters work in a similar way and can be placed underneath drainpipes with a pipe fitted underneath to release water slowly to the existing drain.
4. Permeable surfaces
Around half of Greater Manchester's greenspaces are private gardens, so simply by not paving over these, or by using permeable surfaces we can make a huge difference! Permeable surfaces allow water to soak through them rather than pool on top and form puddles. Some examples include; gravel, porous surfaces, permeable paving and reinforced grass. Replacing driveways and pathways with this style of surfacing can reduce flooding while still keeping your feet dry!
5. Sustainable Urban Drainage Systems (SUDS)
Permeable surfaces and raingardens are both examples of Sustainable Urban Drainage Systems (lovingly known as SUDS). SUDS have the potential to transform our towns and cities, providing environmental and economic benefits including:
A pond with sustainable drainage can increase species richness by 60-80% by providing habitats, refuge and food sources for different plants and animals.
SUDS act as a filter, removing pollutants from our water systems and keeping it clean.
They can reduce the flow of excess rainwater reaching our water systems by 70%, allowing our water systems more time to recover in storm situations.
6. Street trees
Street trees have a whole range of benefits, from creating more inviting places to live and work, to building resilience to flooding and heat waves.
What's great about street trees?
They improve our health and wellbeing, eg. reducing childhood asthma by 29% .
They soak up and store carbon. 5.5kg of carbon is absorbed by every tree each year (the weight of 37 bananas).
When planted in tree pits with SUDS they can store water in times of flash flooding. They also drink lots of water and cool city by 'sweating' during a process called transpiration.
They reduce surrounding air temperatures by 3 degrees – keeping us cool in heat waves and cooling down global temperatures. They also reduce wind speed!
7. Water butts
Keeping it simple by retrofitting a water butt as a 'mini leaky dam' you can capture extra water in stormy conditions and ensure it is released slowly to relieve pressure on our sewer systems. Simply leave the tap open slightly or add a tap half way up to keep some of the water in all year round. Small wildlife ponds also help to retain water, cool the air and increase biodiversity.
Don't forget, you can still register for one of our online workshops for more ideas and an opportunity to ask questions. These take place on:
23rd March 2021, 10:00am – 11:00am
25th March 2021, 5:30pm – 6:30pm
31st March 2021, 12:00pm – 1:00pm
Please email our Community Coordinator Amy for instructions on how to join.
As well as the workshops there will be a Live Q&A on Instagram on Monday 29th March from 5.30pm:
This project has been funded through IGNITION, which is looking to create a greener, more climate resilient Greater Manchester through finding innovative ways of financing and implementing nature-based solutions in our cities.